According to a recent study, social media managers work between 41-59 hours per week, which is more than the accepted standards.
If you're a social media marketer, you know the situation firsthand.
Considering how complex and overwhelming social media marketing has become, social media marketers must rely on technology to drive results.
That's where using a social media dashboard is so crucial. These are designed to help these busy bees become more productive by streamlining tasks, analyzing data, and boosting your social media engagement.
That said, not all social media dashboards are designed equally. They may vary in user-friendliness, design, and features.
Then, how do you choose the right one for your business or clients?
This post will discuss the 10 most important features every good social media dashboard must have.
But, before that, let's shed some light on why you should even use one.
Why Should You Use Social Media Dashboards?
Let's examine some of the major benefits of using a social media dashboard.
1. Improve Productivity
Time is of great essence for social media marketers, and social media dashboards can help them do a lot more with greater efficiency. You can juggle multiple tasks much more easily, as multiple social channels can be integrated into a simple platform.
2. Schedule Posts
With the help of social media dashboards, you can queue up your posts for the week in bulk on multiple social channels within a couple of hours. Schedule them, and the tool will publish them automatically.
3. Monitor and Track
A social media dashboard can help you monitor and track hashtags, keywords, mentions, and competitor activities in one place without going to individual social channels.
4. Analyze Data
Social media dashboards can help you stay on top of your analytical data by analyzing it based on the key social media metrics you've set. You can integrate it with the right type of CRM software to make cloud storage of the data. The insights drawn can help you make more data-driven decisions.
5. Collaborate
Collaboration is a primary requirement for social media marketing. When responsibilities are divided among different people, a social media dashboard can help the users collaborate more efficiently, eliminating confusion or delay.
Now that you understand the benefits of using social media dashboard let's look at 10 must-have features you should look out for.
1. Manage Multiple Profiles
One of the fundamental features all social media dashboards must have is compatibility with all major social media channels like Facebook, Instagram, LinkedIn, and others.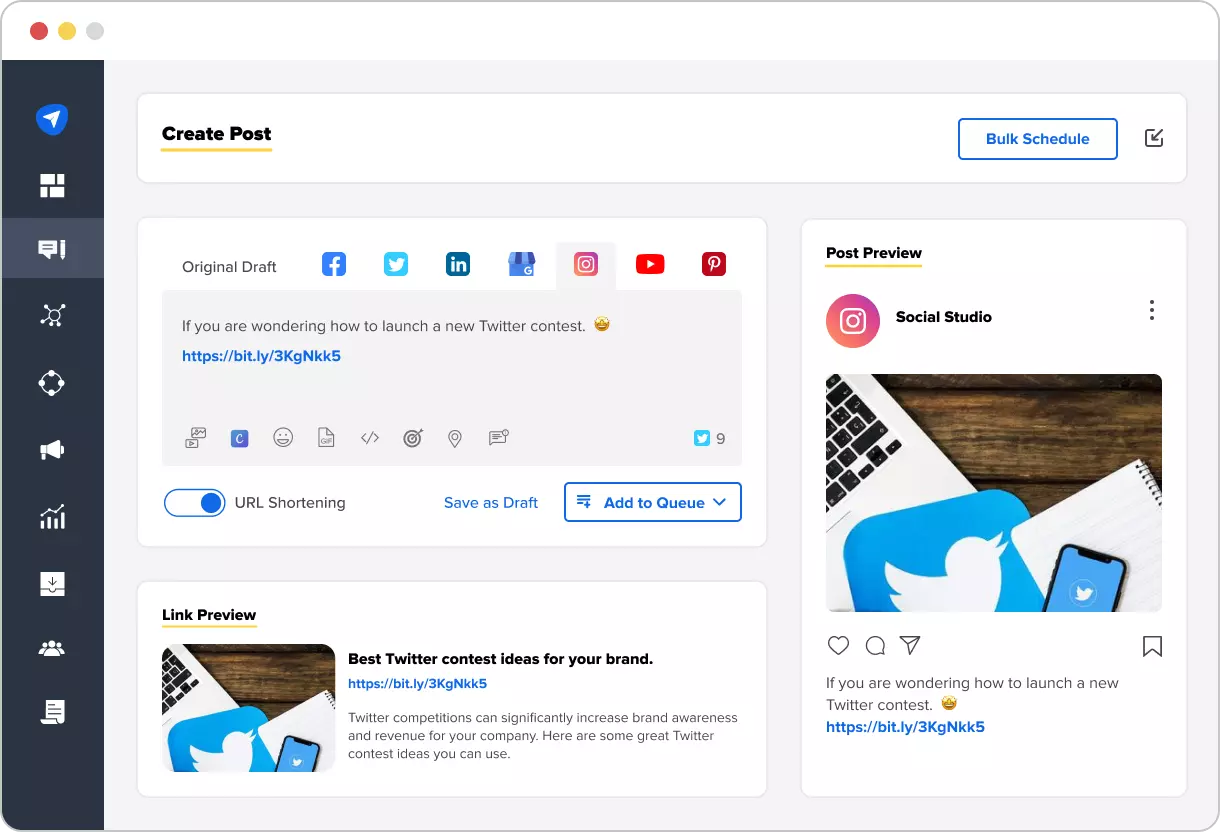 How does that help?
Let's say you want to inform your audience about a detailed Semrush review you've recently published. With the help of a social media dashboard, you can create and publish posts on multiple channels with a single click.
Choose the most relevant channels for your business and use the social media dashboard to focus your efforts on them.
2. Social Media Content Scheduler
A good social media dashboard tool should allow you to create, customize, and schedule posts on multiple social channels in simple steps.
You must look for these advanced features to use the platform to its full potential.
Here's what you need.
Bulk scheduler: With this, you can quickly schedule dozens of posts on multiple channels.
Schedule editing: Sometimes, you want to reshuffle the scheduled posts to prioritize certain posts. A social media dashboard should allow you to easily edit the schedule details and adjust the publishing queue.
Reschedule evergreen content: If you have evergreen content worthy of being published several times, your social media dashboard should automatically allow you to republish the post at certain intervals.
Using this powerful feature on SocialPilot, Elevation Brands could scale up the number of clients it had and, as a result, increased its profit too.
3. Display Your Social Media Calendar
Social media dashboards are fundamentally designed to give you a visual overview of how your activities are planned across multiple channels. It is basically your social media calendar.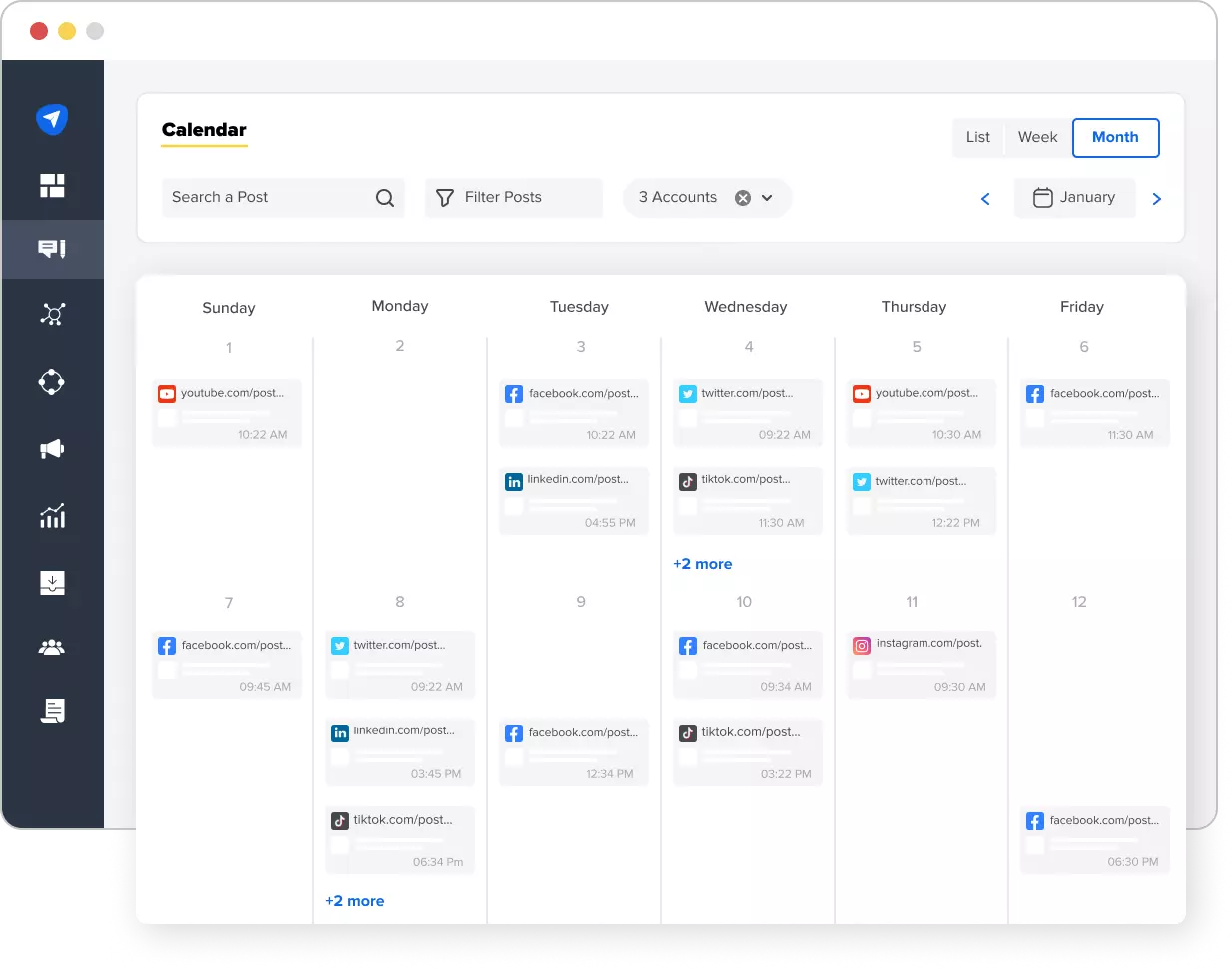 A good tool should display a weekly calendar which is further divided into a daily calendar that contains posts scheduled for each social media platform with their timings, as seen in this dashboard by SocialPilot.
This is a great feature to keep your content well-organized. If there are gaps in your schedule or the posts are scheduled too close to each other, you can easily spot and rejig the publishing queue.
This can help you enhance the effectiveness of your social media campaigns and drive better engagement.
4. Monitor Campaign Performance
Once your posts are live, you'll need a good social media dashboard to help you monitor several performance metrics of these posts that can help you improve your conversion rate.
Measuring your campaign performance is important to understand if it was successful. You can calculate your return on investment (ROI) only if you measure the campaign performance.
Additionally, this measurement can help inform your future marketing decisions so you can put your marketing budget to better use.
Finally, regular campaign performance measurement can help you derive insights that you can use to optimize your campaign.
Here are some top metrics that you need to monitor and track regularly.
Engagement rate
Reach
Link clicks
Number of shares
Comments
Brand mentions
Likes and views
5. Social Media CRM
Did you know that social media dashboards can be used to strengthen your relationship with your existing and potential customers too?
That's right.
A good social media dashboard should also serve as your social media CRM.
Using it, you can quickly respond to comments, queries, and direct messages from the dashboard. You should also be able to automate your responses based on predetermined rules.
The modern-day customer expects brands to respond to their messages and concerns at the earliest.
Not doing so can hamper their experience and may cause them to stop doing business with you. But when you reply to them quickly with a CRM, you win their trust and also show that you care for them. And that's why a social CRM is a must-have.
6. Social Listening
Social listening is a powerful technique to understand customer and audience sentiments.
As important as it is to monitor direct engagement with users, you should also keenly monitor conversations around your brand and products or services.
The social media dashboard that you choose should be able to track both tagged and untagged mentions of your brand and help you see those conversations.
Along with this, you should be able to track several keywords or phrases related to your niche, region, or even competitors to gauge customer sentiments around them. This can be very helpful in building a positive brand reputation and credibility on social media.
7. Provide In-Depth Analytics
Social media analytics is much more than tracking likes, shares, or mentions.
To truly leverage the data for your benefit, you need to dive deep into analytics, and the social media dashboard that you choose should assist you with this comprehensively.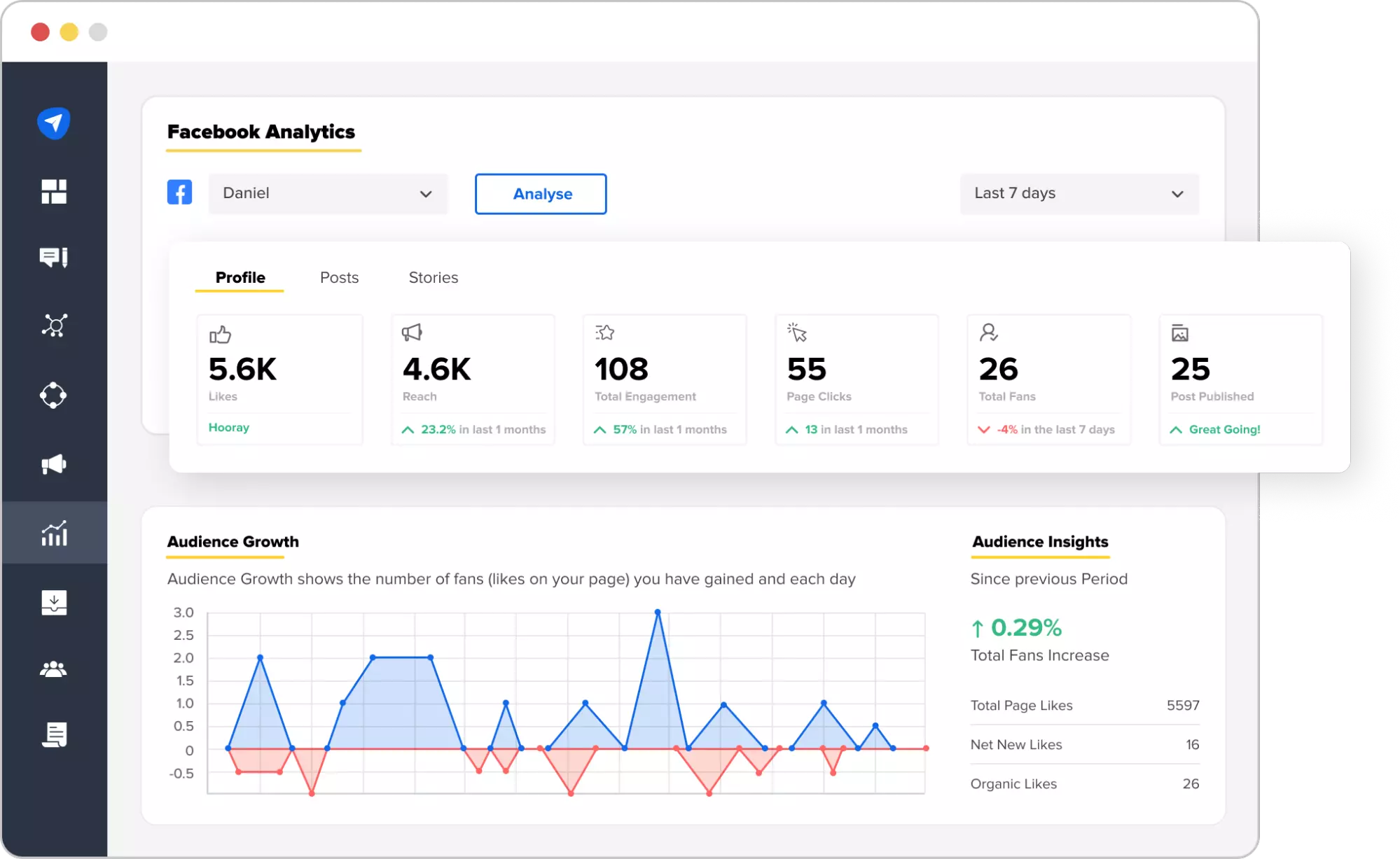 You should be able to track metrics like new followers, top-performing posts, the best time to post, page impressions, leads generated, and much more in real-time to create highly-targeted campaigns.
Using this data, you can conduct detailed analysis for every social channel, like comparing Instagram followers vs. following, YouTube view times, and so on.
Now, remember your Facebook metrics might be different than that of Twitter or YouTube. So you need to choose them wisely while comparing.
8. Capture Audience Demographic Data
The social media dashboard you choose should go a step further and help you identify the audience demographic data for each client.
Some of the key metrics include:
Number of new followers
Age
Gender
Region/Country
Device used
The time when they are active
Such data helps you get a detailed insight into your client's target audiences, and this can help you craft campaigns that can impact them better.
9. Collaborate With Your Team
This feature is vital for social media agencies. As different users will be working on multiple projects, the social media dashboards you consider should allow them to collaborate on projects at an advanced level.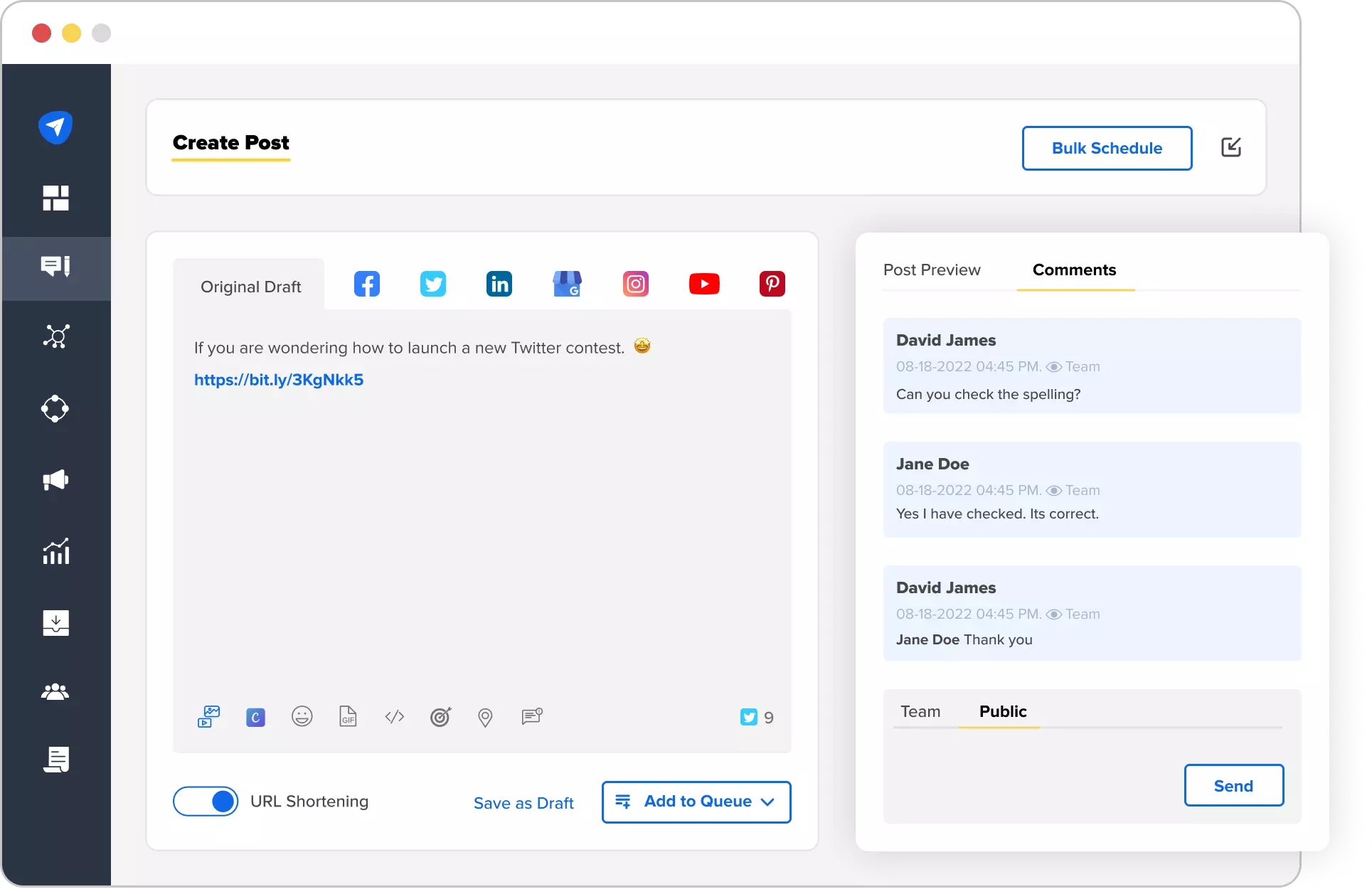 To optimize workflow and enjoy seamless collaboration, the platform should allow them to create multiple dashboards, share calendars in real time, and keep everyone updated about the campaign details.
Such a social media dashboard will ensure that teams can achieve a lot more in the given time.
10. Generate Rich Reports
Generating social media marketing reports can be time-consuming, considering how complicated they can get.
If your social media dashboards can help you generate informative and visually appealing reports like reports for sales, there is nothing like it!
A solid social media dashboard should allow you to customize your reports, generate reports for each channel, and provide a comparative analysis to inform your clients about all your efforts and achievements clearly.
Ready to Choose the Right Social Media Dashboard?
Now you know what to look for in a social media dashboard to ensure it helps achieve your goals.
While most social media dashboards have some standard features, what sets them apart are the advanced features they offer.
As a marketer or a social media agency, you need to go for the one that offers the features you need, can complement your digital marketing tools, and also fits your budget.
For instance, SocialPilot has many features like a social media calendar, bulk scheduling, social inbox, connecting to 50+ accounts and scheduling posts, and more. All of this makes it a must-have tool for every social media marketer.
Go ahead and analyze several social media dashboards based on the features I have discussed and make a wise choice.