Digital marketing is any form of marketing that exists online. Yet that's often where any similarities end when comparing different types of digital marketing. 
All types of digital marketing have their own purpose, but collectively, they can create a dynamic campaign that will help you grow your business. If you aren't sure which type of digital marketing strategy can help you meet your business goals, here are nine examples:
SEO Marketing
Content Marketing
Social Media Marketing
Email Marketing
Pay-Per-Click Marketing
Affiliate Marketing
Online Public Relations
Instant Messaging Marketing
Inbound Marketing
SEO Marketing
SEO marketing primarily focuses on using SEO (search engine optimization) strategy to increase your search results visibility. When a user hits the web and searches for a topic that is relevant to the services or products that you sell, the goal is for your business to appear as a top result on search engines like Google, Bing and yahoo. 
A SEO marketing agency will engage in two primary activities:
On-page optimizations, such as your website design and content
Off-page optimizations, like link building
To rank well in search engines, you must have both on-page and off-page SEO. Google uses them to evaluate your website's credibility, relevance to a particular search and the quality of user experience. 
SEO marketing services will also include tasks like researching and analyzing your current website, performing a keyword analysis to see what your potential customers may be typing into search engines, and optimizing items on your website like titles, meta descriptions, keywords and themes in order to increase the click-through rate, time spent on page and number of pages viewed.
Con
tent Marketing
Content marketing uses the creation and promotion of assets to generate brand awareness. The goal is for this awareness to lead to a growth in traffic, lead generation and customers. 
Examples of tools used in content marketing include:
Blog articles
eBooks
White papers
Infographics
Audio and visual content like podcasts
A content marketing approach helps you identify, attract and cultivate the right people. In fact, blogging is one of the single most effective tools to help attract the customers you want and to provide real solutions. However, it's critical that the content you promote is of high value. Content that offers value is more likely to engage customers and establish trust and credibility.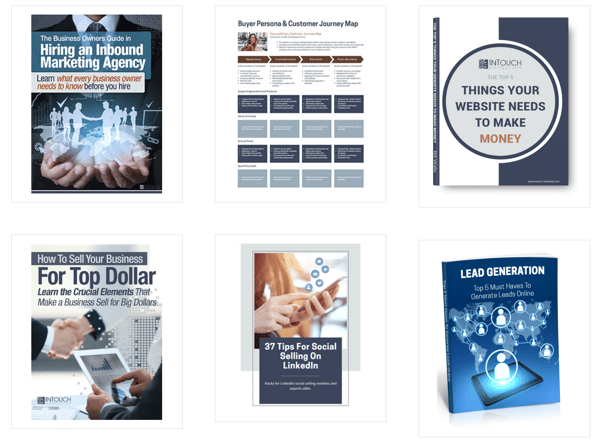 Social Media Marketing
A social media marketing strategy uses sites like Facebook, Twitter and LinkedIn to increase brand awareness and ultimately generate leads for your business. 
Other popular social media sites include Instagram, Snapchat, Pinterest and YouTube. While using these platforms is a great way to implement a viral campaign, it's important that you use the right channels for your business. While some businesses thrive using sites like Pinterest or Instagram, others perform better on sites liked LinkedIn. 
Knowing which social media channel is best for your business begins with defining your buyer persona, or your ideal customer. Once you have a better idea of who your ideal customers are, you can begin to analyze which sites they use. For example, according to a PEW report, 69% of teens use Snapchat. 
On the other hand, LinkedIn is the largest B2B display advertiser in the United States at just over 32%, according to HubSpot. While Twitter's users skew heavily male, women make up more than 60% of Pinterest's global audience.
Email Marketing
Email marketing can be a great targeted approach to reaching potential customers. It can also be useful when following up with potential customers who have reached out to your business.
The key to using email marketing successfully is to provide valuable content, which can help close deals and nurture current customers. Examples of valuable content include blog subscription newsletters and holiday promotions to loyal customers. 
Other uses of email marketing include customer welcome emails, follow-up emails to website visitors who have downloaded content from your website, and tips on an issue that may help a current or future customer with a potential problem.
With the number of global email users set to grow to 4.48 billion by 2024, according to Statista, there is potential for success in using this form of marketing. In fact, a Campaign Monitor study found that a group of 1,000 small business owners ranked email marketing as the second most effective medium for building brand awareness. 
Pay-Per-Click Marketing
Also known as "paid search," pay-per-click marketing involves placing your ad where your customers are searching. Google AdWords is the world's largest and most popular pay-per-click advertising platform followed by Microsoft's Bing platform.
The goal of this marketing approach is that your ad is displayed alongside relevant search results. Each time a user clicks on the ad, you are charged a certain amount of money, hence "pay per click."
Other channels you can use include paid ads on Facebook, Twitter and LinkedIn.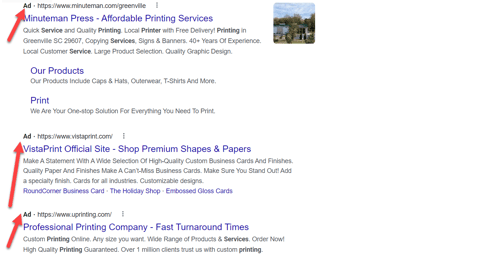 Affiliate Marketing
Affiliate marketing is a performance-based type of advertising where you get a commission for promoting another company's products or services on your website. A popular example of this is the YouTube Partner Program. This program gives creators greater access to YouTube resources and allows revenue sharing from ads that are shown on your content.
Another form of affiliate marketing is posting affiliate links from your social media accounts. This is common in influencer marketing and often involves creating a campaign that taps into an existing community of engaged followers on a social media channel.
Online Public Relations
Online PR involves securing coverage with digital publications, blogs and other websites. Think of it like traditional public relations, but solely online. 
An example of online public relations is reaching out to reporters and developing relationships with the news media that can lead to opportunities for your business to share products or offer thoughts on a particular issue. You can reach out to potential contacts on social media, or you can sign up for services like HARO (Help a Reporter), which publishes inquiries from reporters looking for sources. 
Another example of online PR is engaging with online reviews of your company. When someone reviews a product or service your company has provided, no matter if it's a good review or a bad review, engaging with the reviewer can have positive consequences. Not only does it humanize your brand, it shows that you care and you are paying attention to what customers think. 
Instant Messaging Marketing
Also know as Mobile Text Marketing, messaging platforms are a great way to garner leads for your business. You can use instant messaging to advertise flash sales and new products, or you can use it to provide updates about orders.
This type of marketing also offers a gateway for customers who have questions or need more information about your services. 
Text messages that go directly to mobile phones, Facebook Messenger and WhatsApp are all examples of tools that offer instant messaging marketing opportunities.
Inbound Marketing
Inbound marketing refers to a marketing methodology where you attract, engage and delight customers along their buyers' journeys. Inbound marketing is especially effective because it incorporates many of the different types of digital marketing methods above. 
This modern-day approach to marketing works with the customer rather than against the customer because it attracts targeted traffic to your website by creating relevant content aimed at your ideal customers. Inbound marketing allows customers to come to you on their terms, rather than the other way around.
This is important because more buyers than ever are performing their own independent research thanks to the availability of online content and the growth of social media. According to a B2B Procurement Study, 94% of B2B buyers conduct online research at some point in the buying process. 
A digital marketing agency will drive brand awareness by utilizing digital channels like social media, your website, search engines, email and display advertising to generate leads. An agency will also use keep performance indicators (KPI), or data points, to gauge your company's performance relative to a goal. 
The best digital marketing companies have proven processes … processes they often use themselves to grow their own agencies. When looking for a digital marketing agency that embraces inbound marketing, it's important to work with one that shares these processes and measurable results before making realistic promises on what they can do for your company. 
No matter the type of digital marketing agency you choose above, the best ones will help you understand what type of approach is needed to succeed and achieve your goals … and then put a plan in action to help you get there.