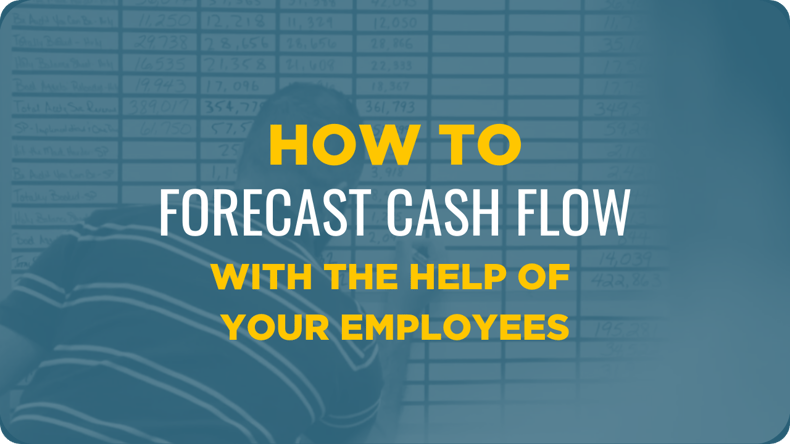 Forecasting cash flow is the key to the survival of many organizations, yet it's a non-existent process in others. Often, organizations with abundant cash see little value in taking the time to put a system in place to do this. Other organizations that operate with little or no cash see forecasting cash flow as a critical element in running their business in such a manner as to avoid a crisis of liquidity. 
The truth is, forecasting cash flow should be a part of the monthly business cycle, regardless of your cash situation. Yet, so many companies fail to share these critical numbers with employees – the very people who impact the numbers every day. When employers take the time to familiarize and educate employees on the Cash Flow Statement,  employees are able to determine what products have an impact on the cash flow of the company at any given time. They even help project if there will be any time in the upcoming year that will result in a cash flow shortage. When employees are included in the regular cycle of forecasting cash flow, they can plan accordingly and know the exact time the company can afford to be more creative and risky.
Here are three statements in which we fully believe:
Cash flow trends can be the ultimate measure and indicator of success and/or failure of the company performance.
Your employees are begging you to be transparent with them.
It is important to your employees that they can TRUST you.
This knowledge will affect their daily routines and behaviors, from completing projects earlier (and allowing accounts payable to collect sooner) to adjusting when to replenish office supplies.
Establishing A Forecasting Process Using Huddles
Predicting cash from operations can be difficult if you don't have a systemic forecasting process in place (i.e., income statement) that is accurate and reliable. The Great Game of Business uses Huddles to take the mystery out of predicting future cash needs or cash generated by the operating part of the organization.


What Is A Huddle?
A Huddle is a fun and engaging company-wide meeting where employees report and forecast the company's financial numbers.
Steps to Forecasting Cash Flow
1. Establish A Huddle Cycle
Establish a Huddle Cycle, or a series of meetings where financial and operational numbers are shared (and forecast) at a series of meetings. Huddles typically forecast two to three months ahead.
Learn The Basics of Creating A Huddle Cycle Here
2. Use The Results Forecasted In Huddle to Predict Cash
Use the results of the forecast to predict cash from operations that can then become a critical element in a forward-looking cash flow report. As the operating forecast changes along with the other items affecting cash, the report can be updated as part of the normal financial reporting cycle.
3. Create a Cash Flow "Scoreboard"
Create a Cash Flow "Scoreboard" that assigns the various sources and uses of cash to "line owners." This helps take the burden of forecasting off the chief financial officer and distribute it to staff members. The big benefit is the line owners, through their research in improving their financial forecasts and developing a deep understanding of how various processes (i.e., A/P, A/R, operations, capital spending) affect cash.

Download Our 90-Day Cash Plan
Stick with the routine and look forward to when your employees start to ask you questions like:
Why did that number go up?
How does this element impact that number's results?
What can we do to make that trend better?
When this happens, YOU HAVE ARRIVED! Your team is asking the questions, they're learning the numbers, and they want to learn how to positively impact the future. You will gain support and teamwork in the future course of your business. Your entire workforce will be engaged in supporting your quest to "win The Game."
---
Other articles you might like: